Ontario is home to nationally-acclaimed green spaces, like Bruce Peninsula National Park and Sandbanks Provincial Park. How do we keep these areas protected for future generations? One way to lessen our impact on the environment is to switch to using solar to generate electricity.
You can see the shifting to greener energy use all across Ontario. Solar is just one example, but we're also using more wind turbines and electric vehicles. We anticipate significant growth in the residential solar market in the coming years. 
Home and business owners know better than anyone that the cost of powering a property seems to increase each year. What better way to reduce your energy bills than by installing a solar power system?
If you want to know more about solar power in Ontario, we've put together this resource to give you more information.
Common Solar Questions
Curious about renewable energy in Ontario? You're not alone; the industry here is booming. 96% of Canada's solar power generation capacity comes from this province. We're going to answer a few questions you might have about installing an Ontario solar power system:
Does Ontario have a net metering program?
If you generate more electricity than you can use, what happens to it? Does it simply go to waste? Not in Ontario—that's thanks to the net metering program.
With this program, you can sell excess energy for credits, and you can draw electricity using those credits when you're running low.
For example, let's consider how a Ontario homeowners energy usage fluctuates during the year.  Modules will receive ample sunlight during the long, clear days of summer. But in the winter, the days are shorter and the skies are cloudier. You can use net metering to save credits in the summer and utilize them in the winter when there is less sunlight.
To take advantage of net metering programs, your Ontario solar system must be connected to the electrical grid. This makes off-grid systems ineligible for the net metering program.
How many kWh can an Ontario solar panel produce in a month?
The size of your solar systems will vary greatly depending on your energy needs. But how much power can solar systems produce?
In Ottawa, Ontario, there is an average of 2111 sunlight hours annually. This gives your modules ample exposure to generate sufficient electricity. Depending on where you're located, a 1 kW solar system has the potential to produce between 1100-1300 kWh each year.
Why is solar better for the environment?
Renewable power is the future for a greener, cleaner planet. Solar electricity allows us to generate electricity without extracting resources from the environment. We use what's naturally available to us: radiation from the sun.
Most electricity production methods rely on resource extraction or disrupting ecosystems. But with solar panels, you can trust that you won't be causing harm to the province you live in.
How long do Ontario solar panels last?
Most solar panels last anywhere between 25-30 years. Their lifespan can be lengthened by working with a reputable Ontario solar company, sourcing high-quality equipment, and performing regular repairs and maintenance when necessary.
Is it expensive to install solar panels in Ontario?
It's no secret that installing a solar system is costly. But as far as installation costs go, Ontario is one of the more economical places to purchase solar equipment.
Check out the products listed on our website; when you personalize your solar setup, you can purchase exactly what you need at a price you can afford.
Ontario Solar Potential
Several factors play into how much electricity your solar array can produce, from the angle of the panels to where they are mounted. What makes Ontario a great place for solar? It boils down to a combination of reasons, which include:
Its location. Factors like the climate, sky conditions, tree cover, and angle of the landscape will affect how much power your solar modules will generate. In Ontario, conditions are favourable for

solar electricity

generation. As far as solar irradiance goes, Ontario has the fifth-highest potential in the country.
Current electricity rates. Many residential and commercial property owners rely on hydroelectricity to meet their energy needs. But this means they're subject to increasing rates, which seem to happen every other year. Heating your home during an Ontario winter is expensive—but it's significantly more affordable when you can do so with solar electricity. Better yet, when utility companies increase their rates, you won't be subjected to higher fees; the cost of solar will stay the same
ROI potential (return on investment). When you're installing something as costly as a solar system, you want to know that you'll get your money's worth. Ontario solar panels are an excellent investment opportunity for any home or business owner. The savings you create on your electricity bills will make the system pay for itself over the years.
Installing solar panels in Canda will also increase the value of your property; when it comes time to sell your building, renewable power will be a major asset.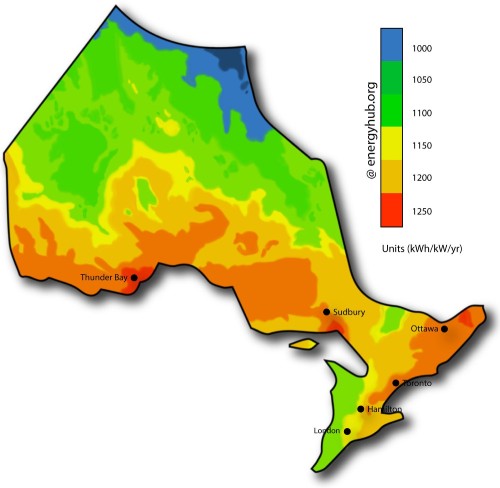 Provincial Guides and Programs
As of writing this, Ontario does not offer any solar incentives for residential or commercial property owners. However, there are clean energy incentives that can be used for solar modules.
People in Ontario can also take advantage of financing options. If you live in Toronto, you may be eligible for the Home Energy Loan Program (HELP). This allows homeowners to install energy-efficiency upgrades with a low-interest loan and an amortization period of up to 20 years. You can receive as much as $75,000 to fund a solar installation with this program.  
Before June of 2018, property owners could utilize the GreenON Solar Rebate Program and receive a set rate for each watt their solar system produced. Unfortunately, this program has since ended. We hope to see new solar rebate programs launch in the future, which will make it more feasible for home and business owners to produce clean energy.
For the time being, Ontario residents can look at federal incentives like the Canada Greener Homes grant or the interest-free loan.
See Our Resource Page For More Information
Switching to solar electricity is beneficial for everybody; it lowers the cost of your utility bills, grants you independence from rising electricity rates, and lessens your impact on the environment. 
Looking for more information about renewable energy in Canada? Check out our resource page, which compiles everything you need to know about solar power. At SRB Energy, we're committed to providing renewable power solutions at affordable prices. Get in touch with us to discuss your solar system today.
energyhub.org is licensed and protected under Creative Commons (CC BY).