Solar Power In New Brunswick
Residents of New Brunswick enjoy some of the lowest costs of living in Canada. However, the same cannot be said of their electricity prices, which are above the national average.
What can you do to make your energy expenses lower? You might consider installing solar panels at your residential or commercial property. By reducing your consumption of hydroelectricity and diesel fuel, you can make Canada a greener country.
Getting started with solar in New Brunswick might seem overwhelming at first. That's why we've put together this resource page. In this article, we're going to share what you need to know before installing solar systems in NB:
Common Solar Questions
You know that solar energy is collected from the sun. The concept is simple, but the questions you have about solar are not.
There's a lot to learn before installing New Brunswick solar panels. We're going to cover a few of the most common questions:
Can I save money by switching to solar power?
Perhaps you dread receiving your monthly electricity bill. Maybe you want to reduce your energy consumption, but it's tough to do when everything you use relies on electricity.
Solar systems are a great way to lower the cost of your energy bill. During peak production months, you can reduce it to $0! You can also save money by utilizing some of the financial programs available in NB, Canada.
What can I do to optimize my New Brunswick solar system?
For anyone considering solar power, a great way to start is by improving the energy efficiency of your home. Investing in energy-saving upgrades will lower your electricity demand. This can eliminate the need to supplement your New Brunswick solar panels with electricity from the grid.
How many solar panels do I need?
You're interested in generating solar energy, but you aren't sure how much your residential or commercial building will require. To find that out, you'll need to calculate the annual energy consumption of your property. This number will be measured in kWh (kilowatt hours).
Tally up the total kilowatt hours used in the last 12 months. Using that amount, you can get a rough idea of how much solar in New Brunswick you'll need to generate. Even though this number is just an estimate, it will be a good indicator of how many solar panels you'll need.
What are the benefits of New Brunswick solar?
What does solar have to offer you? Residents can enjoy the following benefits of solar in New Brunswick:
An investment opportunity. Think of solar systems as a long-term investment strategy. Not only will the solar panels pay for themselves by saving you on electricity costs, but they'll also improve the value of your home. When it comes time to sell your property, solar panels will be factored into the appraisal. They're an investment in bettering the environment and increasing the value of your property.
Self-sufficiency. We all know how annoying it is to lose power. If electricity lines are impacted by extreme weather, or require maintenance, you'll be cut off from the grid. However, if you have off-grid solar panels with a battery backup system, you won't have to deal with power outages. Keep your home or business up and running by installing New Brunswick solar systems.
Reduce your impact on fragile ecosystems. Generating electricity from the rays of the sun is one of the greenest ways to power your property. It's an alternative to hydroelectricity, which can cause damage to river ecosystems; dead plant matter results in the emission of carbon dioxide and methane. But with solar panels, you won't need to worry about your environmental impact.
New Brunswick Solar Potential
Solar potential varies according to the location of your property. A large part of it is based on how many hours of sun a given area receives.
Luckily for residents in New Brunswick, this province receives ample amounts of solar irradiation. Solar irradiance plays a significant role in the solar potential of a province. Moncton (the second largest city in NB, Canada) receives an average of 2002 hours of sun each year. This gives many home and business owners the opportunity to utilize solar power at their properties.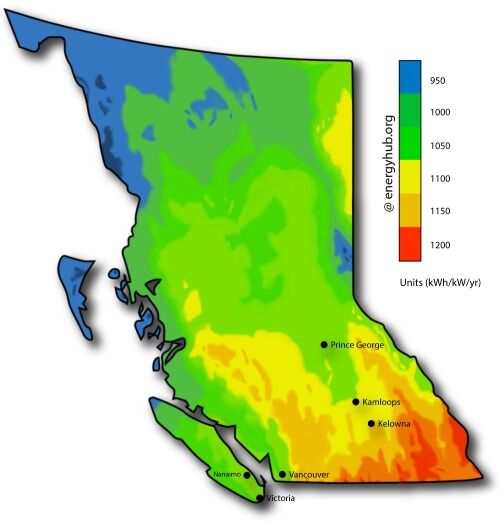 Provincial Guides and Programs
Solar power in New Brunswick really shines when it comes to financial programs and grid integration with utility companies.
A few factors that can reduce the cost of solar systems include:
Financial incentives and programs
Luckily for those in NB, the province has excellent options for both of these factors. Let's dive into them:
Financing
When installing solar in New Brunswick, the upfront costs are often the biggest barrier that property owners face.
One program that homeowners can apply for is the Total Home Energy Savings Program offered by NB Power. It funds energy-efficient upgrades in the home, including the installation of solar panels in Canada. You can apply to have several thousand dollars covered by the program.
Along with this provincial program, you can look to federal incentives such as the Greener Homes Grant offered by the government of Canada. You may be eligible to receive up to $5,000 to make your home more energy efficient (which includes the use of solar panels).
When you shave a few thousand dollars off the cost of installing solar panels, going green becomes a lot more affordable. Consider applying for these financial incentives.
Net metering
Net metering allows you to receive credits for surplus solar energy. It also lets you draw electricity from the grid. This is ideal for the times when your solar system doesn't generate enough to meet your energy consumption needs.
You can take advantage of this program by contacting NB Power to apply for a Net Metering Interconnection. You'll need to pay a small fee to integrate your solar panels into the grid, but the savings will be more than worthwhile.
Once the credits are added to your account, you can use them for electricity. This is perfect if you run out of solar power at night or during a cloudy day.
If you receive credits for your solar energy contributions to the system, keep in mind that they'll expire after some time. Be sure to use them before they're gone!
Please note: net metering is only applicable to solar systems that are connected to the grid. If you have an off-grid system, you will not be able to utilize this program.
See Our Resource Page For More Information
Looking for information about how you can save money and reduce energy consumption by installing solar systems? At SRB Energy, we have everything you need to start generating solar energy in Canada. To learn more about our New Brunswick solar products, browse our website today.
energyhub.org is licensed and protected under Creative Commons (CC BY).